Bridget's Bagettes

1


Price

$ 7.50

Quantity:






Caddy Pad

Clever iron tote and ironing pad in one!


Price

$ 17.50

Quantity:






Classmate

1


Price

$ 9.50

Quantity:






Pocket Canister

1


Price

$ 10.00

Quantity:






Snap Happy Bag

Purse "snaps" closed by using a metal carpenter tape to form a hinge! Great idea! Pattern for three small bags. Plus includes instructions for many other sizes.


Price

$ 7.50

Quantity:






Stand 'N Stow

The Stand and Stow sewing pattern from Atkinson designs is a simple sack that stands up while you pack it, then it folds and stows away! The small size is great for a lunch bag. The medium is about the size of a grocery bag, and a 9" x 13" pan fits perfec


Price

$ 8.00

Quantity:






Tahiti Tote Bag

This bag will be an instant favorite! It has lots of pockets, and zipper top and a front cell phone pocket.


Price

$ 10.00

Quantity:






Tahoe Tote

Whether you grab it for a quick trip to the grocery store or use it all the time, you'll surely be all the fashion rage after making this beautiful tote. Pick 3 of your favorite coordinating fabrics and start sewing now! Large and spacious with 6 interior


Price

$ 10.00

Quantity: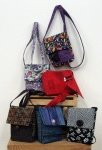 The Potato Chip Bag

So quick and easy you will want to make several. Each bag only required 3 fat quarters. Finished bag is 7" x 6" x 2"


Price

$ 9.00

Quantity: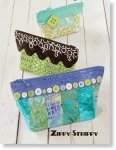 Zippy Strippy Bags

Start collecting buttons, rick-rack, and other fun trims for these easy quilt-as-you-go bags. Great project for using leftover strips, and it works well with new fabric too! small 7.5" x 4, medium 9.5" x 5.5", large 11.5" x 6"


Price

$ 8.00

Quantity: