Bridget's Bagettes

1


Price

$ 7.50

Quantity:






Caddy Pad

Clever iron tote and ironing pad in one!


Price

$ 17.50

Quantity:






Classmate

1


Price

$ 9.50

Quantity:






Pocket Canister

1


Price

$ 10.00

Quantity:






Rita Reversible Bag No. 115

In love with two colorways of a fabric line or two totally different funky groups of fabric?No Problem Get the best of both worlds with the Rita Reversible Bag. This is a shop favorite!!!


Price

$ 11.00

Quantity:






Sunburst Sling

The Sunburst Sling is designed for the intermediate sewer. The pattern includes detailed instructions for choosing the right fabric, installing pockets and a zipper, and ideas for customizing the bag to fit your personal style.


Price

$ 12.99

Quantity:






Sew Serendipity Bags

With full instructions for twelve bags - and with a few clever variations thrown in - there are plenty of designs to choose from (20 total projects)! Pick a handbag that is sweet, sleek, or funky.


Price

$ 29.99

Quantity:






Becca's Bag

Designed by Karen Bennett


Price

$ 9.00

Quantity:






Birdie Sling

This honey of a sling holds everything and it's easy to make! (Great for beginners.) Modern styling and dynamic proportions will make this one of your favorite carry-all bags!


Price

$ 12.95

Quantity:






Ca$h and Carry Bag

Corral your cash, cards and coins in an easy zipper pouch. Make one to keep and one to give away!


Price

$ 8.00

Quantity:






Cancun Clutch

This is a great beginner class! Use as a clutch purse or a travel cosmetic bag. It has an easy to sew zipper top and is made with four fat quarters.


Price

$ 10.00

Quantity:






Debit & Credit Wallet

Legacy Debit & Credit Wallet Pattern- Sew up this wallet, in no time at all, using your favorite Fat Quarters of pre-cut fabric. Open it up and you'll find 4 vertical pockets on one side, to and one horizontal pocket on the other side. Make one or more fo


Price

$ 8.00

Quantity:






Domestic Goddess Aprons

For the fashionable hostess, the artistic chef, the queen of the craft room, or the style-conscious art teacher. 3 styles with 3 lengths to choose from for different tasks. Whether you're keeping food off of your evening dress, or dressing up a simple e


Price

$ 16.95

Quantity: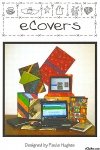 eCovers

This E-Cover is designed to hold the latest ebooks and network devices. The e-cover will help protect your devices while giving them a stylish look. Pattern includes measurments for a Kindle, Nook, IPad and Netbook.


Price

$ 9.00

Quantity:






Just Rewards Coupon Clutch Pattern

The Just Rewards pattern by Whistlepig Creek Productions is a coupon clutch and rewards card wallet patter that is fat quarter friendly! Finished size for the coupon clutch is 7 1/2" x 4" x 1" and 7 1/2" x 4 1/2" trifold pattern. Pattern pieces included


Price

$ 9.00

Quantity:






Mini Messenger Bag

This Mini Messenger Bag will hold your net book, iPad, Kindle or Nook with lots of room left for accessories and the personal items in your purse. Fabric requirements: 1 yd for purse, strap and 2 pockets; 2/3 yd for lining, trim and 2 pockets; 1 yd of Pel


Price

$ 9.00

Quantity:






Olivia Bag

A fun, flirty and fabulous bag made by Me and My Sister Designs


Price

$ 10.00

Quantity:






Paula's Slouchy Sack

Paula's Slouchy Sack pattern is a unique tote pattern with an elastic cinched top, lots of inside pockets, and an outside zippered pocket on the side.


Price

$ 8.50

Quantity:






Peggy Sue

Peggy Sue by Fig Tree & Co., Bag sizes: approximately 10" x 13" and 10" x 11". Straightforward pricing directions, simple shapes without any templates and nice finishing makes this bag fun to make and show off!


Price

$ 9.00

Quantity:






Pleated Tote Sewing Pattern

The Pleated Tote is the ideal project for a beginning sewer. This Jen Giddens pattern is easy to follow and produces a beautiful tote.


Price

$ 12.95

Quantity:






Posh Portfolio

Expandable File Folder & Computer Case


Price

$ 12.00

Quantity:






Reversible Sunday Sling

Stylish & sweet and easy to sew! This reversible modern design is great for beginners - with simple, large pockets, tie handles and pleats. This gorgeous bag makes every day as easy as Sunday.


Price

$ 12.95

Quantity:






Six Pack Stack #1144

Here is a great pattern to make these wonderful tote bags. Instructions included to make the tote bags shown. These are so fun and easy to make you will want to make them all. Great gift idea! This is for Pattern only. Check my other items to find kits fo


Price

$ 8.00

Quantity:






Snap Happy Bag

Purse "snaps" closed by using a metal carpenter tape to form a hinge! Great idea! Pattern for three small bags. Plus includes instructions for many other sizes.


Price

$ 7.50

Quantity:






Stand 'N Stow

The Stand and Stow sewing pattern from Atkinson designs is a simple sack that stands up while you pack it, then it folds and stows away! The small size is great for a lunch bag. The medium is about the size of a grocery bag, and a 9" x 13" pan fits perfec


Price

$ 8.00

Quantity:






Tahiti Tote Bag

This bag will be an instant favorite! It has lots of pockets, and zipper top and a front cell phone pocket.


Price

$ 10.00

Quantity:






Tahoe Tote

Whether you grab it for a quick trip to the grocery store or use it all the time, you'll surely be all the fashion rage after making this beautiful tote. Pick 3 of your favorite coordinating fabrics and start sewing now! Large and spacious with 6 interior


Price

$ 10.00

Quantity:






The Charm Clutch

This elegantly proportioned charming clutch or bag transitions from casual day to dressy night (and holds everything you need!). Easily customize the Charm bag with 2 different length handles, different options for closures, and lots of fabric ideas. With


Price

$ 12.95

Quantity:






The Classic Clutch

Includes two size and handle options, a zippered pocket for your cell phone, and purse divider that can be used to store your credit card. It's quick and easy to make and includes detailed photo instructions to guide you every step of the way!


Price

$ 10.00

Quantity:






The Ditty Roo Bag

The totally unique 'Roo-style' exterior pocket is the perfect place for 'stash & dash' items.


Price

$ 12.00

Quantity: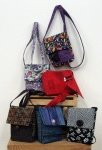 The Potato Chip Bag

So quick and easy you will want to make several. Each bag only required 3 fat quarters. Finished bag is 7" x 6" x 2"


Price

$ 9.00

Quantity:






Three Pocket Tote Pattern

Two seams and a unique fold create this easy to do purse. Measuring approximately 9" x 9" this pattern includes detailed instructions for applying binding with perfect mitered corners.


Price

$ 8.50

Quantity: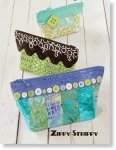 Zippy Strippy Bags

Start collecting buttons, rick-rack, and other fun trims for these easy quilt-as-you-go bags. Great project for using leftover strips, and it works well with new fabric too! small 7.5" x 4, medium 9.5" x 5.5", large 11.5" x 6"


Price

$ 8.00

Quantity: